Day 72 – With less than two weeks – perhaps even just ten days – until the finish of what is set to be the closest ever edition of the Vendée Globe, it is still impossible to predict which three skippers will finish on the podium.
"To be honest we won't really have a decent idea until the first ones get to the entrance to the Bay of Biscay at La Coruña," warned race director Jacques Caraës.
Emerging from the Doldrums first, Charlie Dalin (Apivia) and Louis Burton (Bureau Vallée 2) are taking slightly different options. Dalin may be computed to be closer to the finish than his rival but Burton is sailing over three knots faster, and is actually more north than Dalin but is making a lower, faster angle and so diverging to the west. Their lateral west east separation is approaching 200 nm.
The question they seek to answer is 800 nm northwestwards as a high pressure ridge of light winds is in their path, and they are determining the best route across to connect with a North Atlantic's winter low pressure arriving from Newfoundland.

The leading two contenders have entirely different programs.
Dalin is backed by insurance brand Apivia, part of the MACIF group which already won the Vendée Globe in their own colors with François Gabart in 2012-13. Gabart's MerConcept company manages the project, and as well as Gabart in his corner, Dalin has the counsel of Volvo Ocean Race winning navigator Pascal Bidégorry and a pool of top engineers and designers. He was hand picked as a Vendée Globe successor to Gabart for his record as two times French offshore champion with four consecutive podiums on the Figaro circuit to his credit.
But for all that the meticulous, super consistent Dalin has been feted in one of France's best funded, top ocean racing stables, he has sailed more than his share hard miles and as young naval architecture student in England raced in the IRC fleet with the Bear of Britain training group. He became close friends with English ex Mini Class Racer and adventurer Nick Bubb.
"Back in 2002 Charlie was one of the youngsters who helped out anyone he could in the Mini fleet just to get a bit more experience," said Bubb. "The first time we sailed together he was still super young and it was a four day delivery back from La Rochelle to the UK and the deal was he could skipper the trip, as long as he'd only speak French to me.
"Then he helped work with me on the build of the Class 40 I sailed the Route du Rhum on then and we sailed her back from the Azores together in what turned out to be a pretty heinous trip. It was late December on a fast moving low pressure sweeping across the Atlantic and Charlie was absolutely rock solid. I knew then he had it.
"His threshold for not only surviving big conditions but reveling in them was super high. A few years later he asked me to race the Mini Fastnet with him. I'd done about six or seven of them by then. We finished fourth. He had a pretty old boat, I thought we'd done well but he just always wanted more. Later that year he won the 2nd leg of the Mini Transat and he never looked back after that."
Burton, two years younger at 35, sails smart and makes smart choices but he has not risen through the same ranks – Mini, Figaro, IMOCA – as Dalin did. After starting with a Class 40, he and his brother Nelson made a big impression early in the 2011 Transat Jacques Vabre in a new Farr IMOCA, but fading with technical problems they went on to finish 11th. Louis finished seventh on a brutally windy B to B race back from Saint Barths, his first big solo IMOCA race. Theirs is a small team based out of Saint Malo from where Burton has mostly trained alone, selecting only key IMOCA races because of their relatively modest budget.
And while Mer Concept, and Dalin have developed, refined and optimized their latest generation Verdier design, the smartest decision of Burton and Bruno Peyroles – president and founder of French office supplies giant Bureau Vallée – was buying the perfectly proven, battle hardened winner of the last race Banque Populaire X before it had crossed the finish line four years ago tomorrow.
Behind them the chasing pack is regrouping and far from out of the battle. "The first are on a more westerly curve but their pursuers will have a more direct route which should benefit them," explains Caraës. Some compression by the chasing groups is expected.
Germany's Boris Hermann (SeaExplorer – Yacht Club de Monaco) dropped some valuable miles, snared in the Doldrums for hours last night. He retains a good position further north than his rivals and should now be able to outgun the other boats around him if indeed is playing with a boat at 100% as he contends.
"I had 24 very challenging hours, very challenging psychologically, no wind at all yesterday and through the night, sometimes the boat spinning in circles, the pilot beeping like a mad thing, the sails flapping, still with huge sea state, a trough coming from somewhere," said Herrmann. "But I have have some wind now, it is super grey with rain, I am not out of the ITCZ but the wind is in the right direction, bit left maybe. But in these squalls you go in and sail in 27 knots of wind with upwind gear which was made for 11kts, lots of work and I am quite tense."
Previous leader Yannick Bestaven (Maître CoQ IV) revealed today that he has had technical problems since the depression coming into Cape Horn. "I don't have a pulpit anymore, no furlers and there are some sails that I can't use anymore. These added to the difficulty of getting through the Doldrums but I feel like I'm coming out of it."
Ranking – 21:00 (GMT)*
1. Charlie DALIN, APIVIA – 2794.81 nm DTF
2. Louis BURTON, BUREAU VALLEE 2 – 34.0 nm DTL
3. Damien SEGUIN, GROUPE APICIL – 112.58 nm DTL
4. Thomas RUYANT, LinkedOut – 121.86 nm DTL**
5. Yannick BESTAVEN, Maître CoQ IV- 124.44 nm DTL
DTF – Distance to Finish; DTL – Distance to Lead
* Time awards given to Yannick Bestaven, Jean Le Cam, and Boris Herrmann for their participation in the rescue of Kevin Escoffier will be applied when the skippers finish. – Details
** Damaged port foil on Nov. 24 at 02:00.
Race details – Boat types – Tracker – Ranking – YouTube
The Vendée Globe is the only sailing race round the world that's solo, non-stop, and without assistance, and it was all systems go for the 9th edition on November 8. Beginning in 1989 with 13 entries, and held every four years, the start line in 2020 had 33 skippers taking off from Les Sables d'Olonne, France.
The development of the IMOCA Class toward foiling will see these boats hurl themselves around the world, teetering on carbon skates through inhospitable regions, chasing the record set in 2016-17 by Armel le Cléac'h of 74:03:35:46.
2020-21 Attrition
Nov. 16, 2020 – Nicolas TROUSSEL, CORUM L'EPARGNE – dismasted
Nov. 28, 2020 – Alex THOMSON, HUGO BOSS – rudder damage
Nov. 30, 2020 – Kevin ESCOFFIER, PRB – hull damage (sunk)
Dec. 4, 2020 – Sébastien SIMON, ARKEA PAPREC – foil damage
Dec. 5, 2020 – Sam DAVIES, Initiatives-Cœur – keel damage (collision)
Dec. 11, 2020 – Fabrice AMEDEO, NEWREST – ART & FENÊTRES – computer failure
Jan. 9, 2021 – Isabelle JOSCHKE, MACSF – keel ram failure
Jan. 16, 2021 – Sébastien DESTREMAU, MERCI – autopilot failure
Participation history:
1989-90: 13 boats at the start
1992-93: 15 boats
1996-97: 15 boats
2000-01: 24 boats
2004-05: 20 boats
2008-2009: 30 boats
2012-2013: 20 boats
2016-2017: 29 boats
2020-2021: 33 boats
2020-21 Entries
Fabrice AMEDEO: NEWREST – ART & FENÊTRES
Romain ATTANASIO: PURE – BEST WESTERN
Alexia BARRIER: TSE – 4MYPLANET
Yannick BESTAVEN: MAÎTRE COQ IV
Jérémie BEYOU: CHARAL
Arnaud BOISSIÈRES: LA MIE CÂLINE – ARTISANS ARTIPÔLE
Louis BURTON: BUREAU VALLÉE 2
Didac COSTA: ONE PLANET ONE OCEAN
Manuel COUSIN: GROUPE SÉTIN
Clarisse CREMER: BANQUE POPULAIRE X
Charlie DALIN: APIVIA
Samantha DAVIES: INITIATIVES-CŒUR
Sébastien DESTREMAU: MERCI
Benjamin DUTREUX: OMIA – WATER FAMILY
Kevin ESCOFFIER: PRB
Clément GIRAUD: COMPAGNIE DU LIT / JILITI
Pip HARE: MEDALLIA
Boris HERRMANN: SEA EXPLORER – YACHT CLUB DE MONACO
Ari HUUSELA: STARK
Isabelle JOSCHKE: MACSF
Jean LE CAM: YES WE CAM !
Stéphane LE DIRAISON: TIME FOR OCEANS
Miranda MERRON: CAMPAGNE DE FRANCE
Giancarlo PEDOTE: PRYSMIAN GROUP
Alan ROURA: LA FABRIQUE
Thomas RUYANT: LINKEDOUT
Damien SEGUIN: GROUPE APICIL
Kojiro SHIRAISHI: DMG MORI
Sébastien SIMON: ARKEA – PAPREC
Maxime SOREL: V AND B – MAYENNE
Alex THOMSON: HUGO BOSS
Armel TRIPON: L'OCCITANE EN PROVENCE
Nicolas TROUSSEL: CORUM L'ÉPARGNE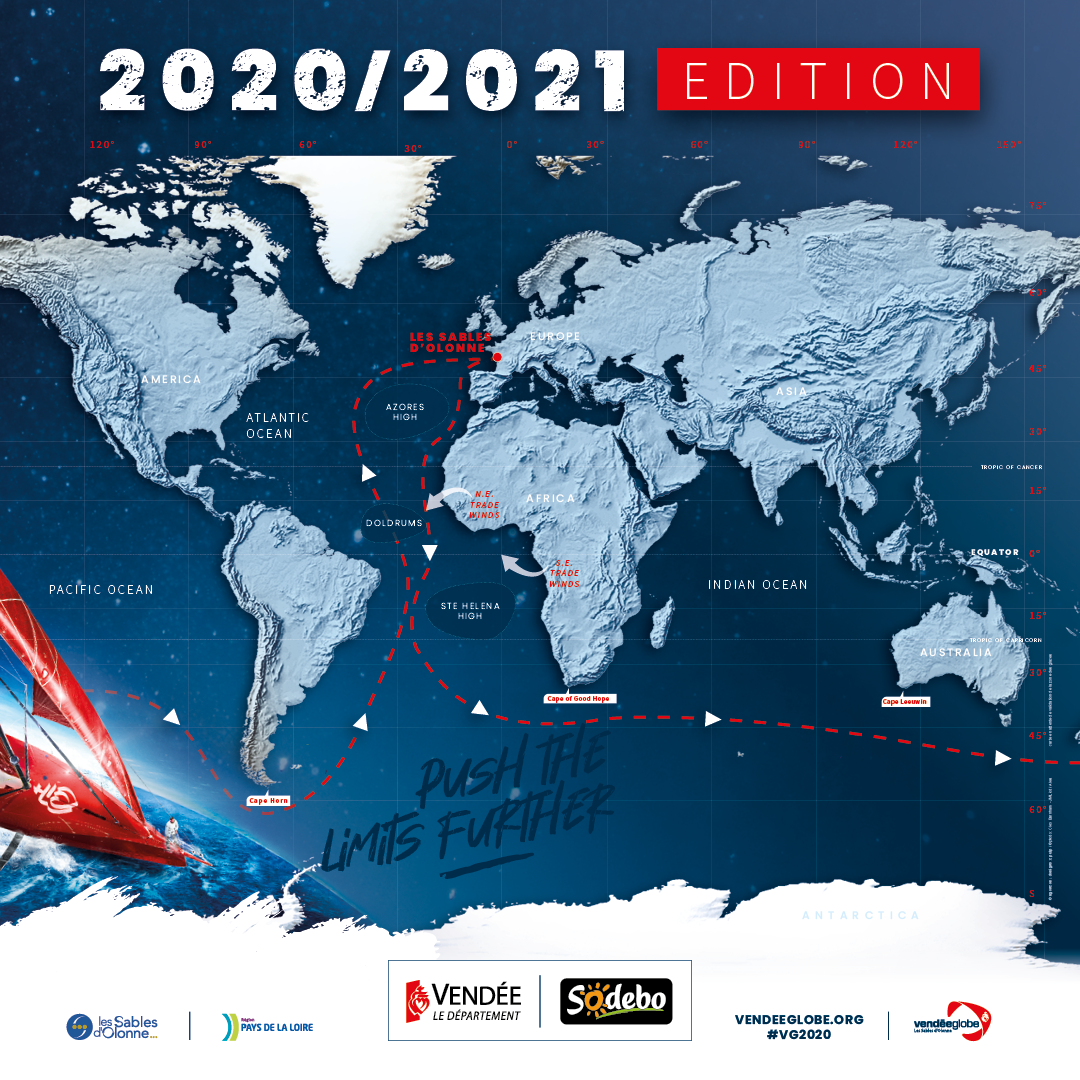 Source: Vendée Globe
Published on January 18th, 2021
Source: https://www.sailingscuttlebutt.com/2021/01/18/vendee-globe-different-paths-to-victory/