Vendée Globe favorite Alex Thomson (GBR) has paused racing to address damage to his 2019 VPLP-design HUGO BOSS. Ross Daniel, Technical Director at Alex Thomson Racing, has released the following statement at 11:30 GMT on November 22:
"Yesterday evening (Saturday 21st November), while Alex was carrying out a routine inspection onboard HUGO BOSS, he spotted what he believed to be some structural damage in the bow area of the boat. He immediately notified myself and the team on shore, and we provided clear instructions to allow him to carry out a full inspection of the damage.
"That inspection has revealed some structural damage to a longitudinal beam at the front of the boat. The damage appears to be isolated to that area alone. It is yet unclear what caused this damage. There have been no incidents of concern onboard the boat during the race so far.
"Together with our structural engineers and naval architects, we worked through the night to put together a full repair plan for Alex. During this time, Alex took some rest onboard in order to prepare to begin that repair work this morning.
"Alex has now put the boat into a safe position to manage the sea state in order to reduce movement onboard while he carries out the repair. He has all the necessary materials onboard, a detailed plan to follow, and a team of world class engineers advising him. We are therefore confident in his ability to complete the repair.
"Our objective is to carry out the necessary repair swiftly and effectively, in order to minimise the miles lost and resume racing again.
"A further update will follow from the team in due course".
Thomson has been in the lead pack since the start on November 8, and was looking strong in first as he crossed the Equator and descended the South Atlantic. However, he had been losing distance for the past several days, finally getting passed yesterday by Thomas Ruyant at the 04:00 ranking.
Ranking – 11:00 (GMT)
1. Thomas RUYANT, LinkedOut – 19729.9 nm DTF
2. Charlie DALIN, APIVIA – 10.91 nm DTL
3. Alex THOMSON, HUGO BOSS – 120.73 nm DTL
4. Jean LE CAM, Yes We Cam! – 258.24 nm DTL
5. Kevin ESCOFFIER, PRB- 285.44 nm DTL
DTF – Distance to Finish; DTF – Distance to Lead
Race details – Boat types – Tracker – Ranking – YouTube
The Vendée Globe is the only sailing race round the world that's solo, non-stop, and without assistance, and it was all systems go for the 9th edition on November 8. Beginning in 1989 with 13 entries, the start line in 2020 had 33 skippers taking off from Les Sables d'Olonne, France.
The development of the IMOCA Class toward foiling will see these boats hurl themselves around the world, teetering on carbon skates through inhospitable regions, chasing the record set in 2016-17 by Armel le Cléac'h of 74:03:35:46.
2020-21 Attrition
Nov. 16, 2020 – Nicolas TROUSSEL, CORUM L'EPARGNE – dismasted
Participation history:
1989-90: 13 boats at the start
1992-93: 15 boats
1996-97: 15 boats
2000-01: 24 boats
2004-05: 20 boats
2008-2009: 30 boats
2012-2013: 20 boats
2016-2017: 29 boats
2020-2021: 33 boats
2020-21 Entries
Fabrice AMEDEO: NEWREST – ART & FENÊTRES
Romain ATTANASIO: PURE – BEST WESTERN
Alexia BARRIER: TSE – 4MYPLANET
Yannick BESTAVEN: MAÎTRE COQ IV
Jérémie BEYOU: CHARAL
Arnaud BOISSIÈRES: LA MIE CÂLINE – ARTISANS ARTIPÔLE
Louis BURTON: BUREAU VALLÉE 2
Didac COSTA: ONE PLANET ONE OCEAN
Manuel COUSIN: GROUPE SÉTIN
Clarisse CREMER: BANQUE POPULAIRE X
Charlie DALIN: APIVIA
Samantha DAVIES: INITIATIVES-CŒUR
Sébastien DESTREMAU: MERCI
Benjamin DUTREUX: OMIA – WATER FAMILY
Kevin ESCOFFIER: PRB
Clément GIRAUD: COMPAGNIE DU LIT / JILITI
Pip HARE: MEDALLIA
Boris HERRMANN: SEA EXPLORER – YACHT CLUB DE MONACO
Ari HUUSELA: STARK
Isabelle JOSCHKE: MACSF
Jean LE CAM: YES WE CAM !
Stéphane LE DIRAISON: TIME FOR OCEANS
Miranda MERRON: CAMPAGNE DE FRANCE
Giancarlo PEDOTE: PRYSMIAN GROUP
Alan ROURA: LA FABRIQUE
Thomas RUYANT: LINKEDOUT
Damien SEGUIN: GROUPE APICIL
Kojiro SHIRAISHI: DMG MORI
Sébastien SIMON: ARKEA – PAPREC
Maxime SOREL: V AND B – MAYENNE
Alex THOMSON: HUGO BOSS
Armel TRIPON: L'OCCITANE EN PROVENCE
Nicolas TROUSSEL: CORUM L'ÉPARGNE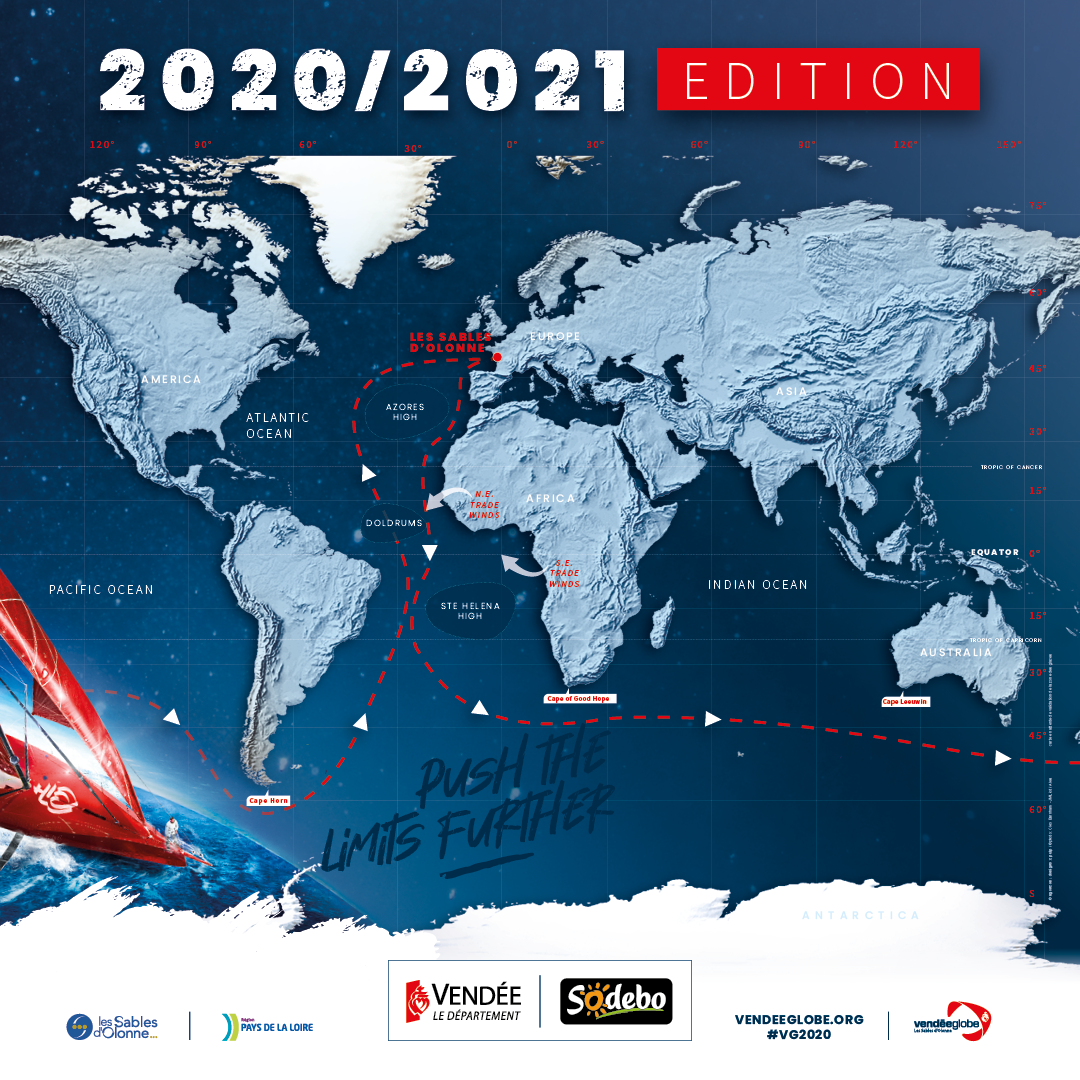 Source: Vendée Globe
Published on November 22nd, 2020
Source: https://www.sailingscuttlebutt.com/2020/11/22/vendee-globe-damage-to-hugo-boss/