New Seakeeper 18 packs a punch, as firm continues with expansion plans.
Marine stabilization specialists Seakeeper, have launched their newest model, the Seakeeper 18, at a media event this morning at the Cannes Yachting Festival. Launched to provide more angular momentum without increasing weight, size or power, the Seakeeper 18 is a new option for boats from 65ft-75ft (20m-23m) or up to 56 tons.
"Customers are demanding the best performance possible," said Seakeeper president & CEO Andrew Semprevivo. "It's not about reducing the roll any more, we're regularly being asked to eliminate it completely. The Seakeeper 18 was developed as a response to that."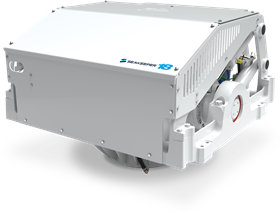 The Seakeeper 18 packs a punch with 18,000 Newton-meter-seconds (N-m-s) of angular momentum, the standard in measuring gyroscopic output, but in the same footprint as the Seakeeper 16 (16,000 N-m-s).
Seakeeper says it is expanding its product line to provide customers with stabilization solutions that fit the needs of individual vessels and their intended use, with new models serving to provide additional options rather than to replace existing products. The Seakeeper 16, introduced into the market nearly five years ago, will continue to be available, and, according to Seakeeper, is now installed in approximately 50% of all new boats built in its target size range.
The Seakeeper 18 will be available for shipment beginning late 2019 and will retail for US$119,900.
Seakeeper's mission since it arrived in the market back in 2008, was always to bring marine stabilization to the mass market – it's Seakeeper 2 is designed for use on boats from 27ft but has been specified for boats as small as 23ft. The firm recently invested in its first demo boat in Europe – an Axopar 28 fitted with a Seakeeper 2, and currently available for testing at the Cannes show this week. It follows the opening of its first European office in Lavanga, Italy, last summer.
There are currently around 10,000 Seakeepers in the field and since 2014 the firm has recorded a 40% increase in shipments year on year. Sales are being driven by customer demand for comfort at sea, and as smaller boats get more expensive with buyers demanding increased luxury and equipment specifications, the relative costs of stabilizers onboard continues to come down.
Since 2014 Seakeeper has launched some 13 new products and is now working with 40 OEMs. Though initially the rump of its sales (90%) came from Europe, driven by the uptake among large motorboat builders, penetration of Seakeeper products in the volume sportsfishing segment in the US in recent years now sees revenues split approximately 50/50 between the two markets.
Seakeeper technology
A Seakeeper is a computer-controlled gyroscope that eliminates up to 95% of boat roll. Its proprietary design, inspired by aerospace technology, centers on a powerful steel flywheel that spins at high speeds in a near vacuum, eliminating air friction and allowing weight, heat generation, and power consumption to be minimized. The technology works in all sea conditions, both at rest and underway. Completely self-contained, the Seakeeper produces no drag and, unlike fin stabilizers, has no risk of damage from impactor snag. A Seakeeper can be installed as a new build feature or can be retrofitted to virtually anywhere on the boat.
Source: https://www.ibinews.com/technology/seakeeper-makes-waves-with-launch-of-new-model-in-cannes/34753.article