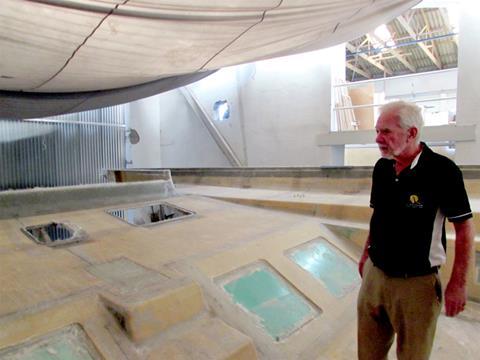 South African police have arrested a second suspect in the murder case of St Francis Bay boatbuilder Duncan Lethbridge, local media outlets report.
Police arrested a first suspect, Bongani Faku, four days after Lethbridge was killed in his home on August 15 during an attack at his St Francis Bay home. The second suspect, Lukhanyo Faku, was arrested in the nearby city of Port Elizabeth about 100km away. The two suspects are cousins and face charges of murder, assault and robbery, according to a report by African News Agency (ANA).
During the attack, Lethbridge and his wife Cathy were tied up and had their mouths sealed with sellotape. Postmortem results showed Lethbridge had subsequently suffocated to death.
Lethbridge was a well-known and award-winning boatbuilder who had recently won a lifetime achievement award from the South African Boatbuilding Export Council (SABBEX). He founded catamaran specialists St Francis Marine over 20 years ago and retired from active management earlier this year.
Renowned naval architect Angelo Lavranos, who worked closely with Lethbridge on several designs over the years, was among several prominent industry stalwarts to pay tribute to Lethbridge and his boatbuilding legacy. "Duncan was a deeply reasonable, energetic and practical man who cared about producing excellent boats, looking after his people and his clients, and also sailed his boats extensively," Lavranos said. "Our association goes back 33 years and it has been wonderful. A fine man and inspiration to many," he said.
Rob Brennan, who took over management control of the St Francis yard when Lethbridge retired, said his predecessor would be sorely missed. "Duncan was firstly a gentleman, a legend and a pioneer and his passing is a great loss not only to St Francis Marine, the South Africa marine industry but to South Africa as a whole," Brennan told guests at Lethbridge's funeral last month. "I will always remember our daily technical discussions and tours of the factory. Duncan was very excited by all the new technical developments in boatbuilding and was always looking for new ways and materials to build a better catamaran," Brennan said.
Source: https://www.ibinews.com/police-arrest-second-suspect-in-lethbridge-murder-case/34782.article