Last week's event was held at Phuket Yacht Haven Marina.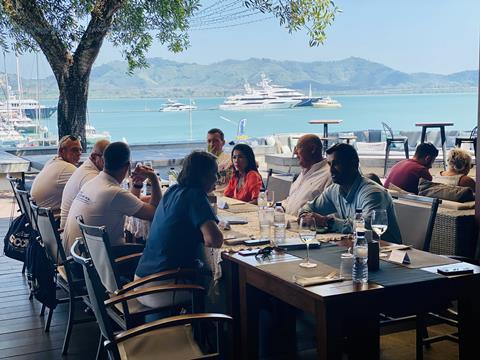 The inaugural Australia Thailand Rendezvous, sponsored by Benetti Yachts, took place at Phuket Yacht Haven Marina in Thailand last week.
Organised by Superyacht Australia, the event attracted 14 vessels, captains and crew for a day of networking opportunities and an update on what is happening in the Australian superyacht industry.
The Australia Thailand Rendezvous was modelled on the Pacific Rendezvous events that Superyacht Australia has conducted in previous years in both Fiji and Tahiti. The day's activities included a Morning Tea Expo, VIP Captain's Lunch, Best Dressed Competition, BBQ Cooking Competition and a Networking Party.
The Captain's Lunch, sponsored by Echo Yachts, saw 11 captains in attendance. "This year's inaugural event was an immediate success providing a great location and numerous networking opportunities for Australian superyacht businesses, many large superyacht captains, crew, superyacht agents and brokers from the region in a professional relaxed setting," says Chris Blackwell, sales and marketing manager of Echo Yachts.
"We would highly recommend the event to others."
Source: https://www.ibinews.com/trade-events/1st-australia-thailand-rendezvous-a-success/35681.article
Photo source: www.urbanmarketplace.us